Bio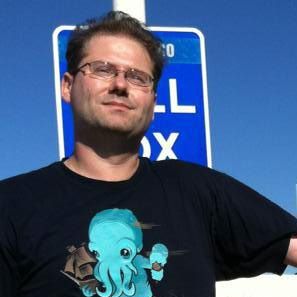 (Updated December 1, 2014)
Tim Pratt lives in Berkeley, California, with his wife, Heather Shaw and their son River. His fiction and poetry have appeared in The Best American Short Stories, The Year's Best Fantasy and Horror, The Mammoth Book of Best New Horror, Strange Horizons, Realms of Fantasy, Asimov's, Lady Churchill's Rosebud Wristlet, Subterranean, and Tor.com, among many other places (for complete details, see his bibliography).
His debut collection Little Gods was published in November of 2003. His second collection, Hart & Boot & Other Stories, appeared in January 2007, and was a World Fantasy Award finalist. Third collection Antiquities and Tangibles and Other Stories appeared in 2013.
First novel The Strange Adventures of Rangergirl was published in late 2005. It was nominated for the Mythopoeic Award, and won a Romantic Times Critic's Choice Award for best Modern Fantasy, and an Emperor Norton Award (which has the coolest trophy ever: a bust of Joshua Norton).
Other standalone fantasy novels include Briarpatch (2011), Heirs of Grace (2014), and forthcoming short novel The Deep Woods (2015). His gonzo-historical novel, The Constantine Affliction, was published under pen name T. Aaron Payton in 2012. He co-wrote middle grade spy novel The Stormglass Protocol with Andy Deemer (2013).
In October 2007 he began publishing a series of urban fantasies featuring ass-kicking sorcerer Marla Mason. The first was Blood Engines, followed by Poison Sleep (April 2008), Dead Reign (November 2008), and Spell Games (April 2009). He serialized a prequel, Bone Shop, online in 2009. The fifth book, Broken Mirrors, appeared in 2010, followed by Grim Tides in 2012 and Bride of Death in 2013. Lady of Misrule is forthcoming in early 2015. Visit MarlaMason.net for details.
He's written several roleplaying game tie-in fantasy novels, including one for Forgotten Realms and four for Pathfinder Tales.
Some of his poems have been collected in If There Were Wolves, including "Soul Searching", winner of a Rhysling Award for best long poem.
He has edited two anthologies: a reprint volume of stories about infernal creatures, Sympathy for the Devil (2010) and an anthology of original stories inspired by classic tales, Rags and Bones (2012, with Melissa Marr).
By day he works as senior editor at Locus magazine, where, among other things, he write the obituaries.
He won a Hugo Award (for "Impossible Dreams" in 2007), and has been nominated for a Nebula Award, Stoker Award, Theodore Sturgeon Memorial Award, a couple of Gaylactic Spectrum Awards, a Seiun Award, a Scribe Award, and two Ignotus Awards, among others. In 2004 he was a finalist for the Campbell Award for Best New Writer.
***
And now, for archival purposes, my bio from several years ago, as written by my long-time friend Scott Seagroves. [With some updates by me in brackets.]
Bio by Scott Seagroves, December 2000
I remember not being sure if I was hallucinating, or dreaming, or wide awake inside a David Lynch film. There were… shall we say…"mitigating circumstances" that caused the reality of our experiences to come into question. But whatever the ontological status of these stimuli, it certainly appeared that Tim was pumping his SuperSoaker full of air. My God, if he didn't stop soon the damn thing would pop like bubble-wrap under cleats … and just then he pointed the gun at me. He pulled the trigger — cold, compressed, stale air shot in my eyes. I wish you could've heard him as he cackled and squeaked, "Yeah — you don't like that, do you? That's REAL!!!!!!"
Tim Pratt was born on 12 December 1976. His mother cooperated with the prosecution during that whole scandal a while back (you know the one) and so is now Cindy Anderson. [She later became Cindy Simpson, and is now back to her own name.] In time for Tim's formative elementary school years, he and his mother settled near Dudley, NC, where she married Wayne. Soon Tim had a brother, "little" Wayne, and a sister, Jodi.
Tim excelled in elementary school (what the hell did we do in elementary school, anyway, and what does it mean to "excel" at it?). This got him labeled "gifted" — which kids take as an adult word for "weird" — and started him on the fast-track through the meager accelerated programs in the public schools of Wayne County.
We'd known each other since Brogden Primary School, and eventually became very close around age 13. We escaped the morass that was Brogden Junior High, and entered Southern Wayne High School. While the violence there had potentially more devastating consequences, the environment certainly felt less suffocating. Sometime around this transition, it seems that people finally noticed that smart guys weren't necessarily freaks. So, quickly Tim became the kind of guy who made good grades, had a hot girlfriend, and hung out with a sizeable cadre of friends.
He graduated among the top in his class, fairly certain that writing was to be some part of his future. He moved on to study English at Appalachian State University in Boone, NC.
The stories had, of course, already begun. He had written them in his spare time, or with only a vague notion that what he was doing could legitimately compete with more explicit obligations. But early in his college career he made a conscious commitment to writing as vocation, not avocation. He attended a writing workshop in DC with Orson Scott Card; this intense experience set the stage for serious study of the craft. By the time he graduated (BA, English, 1999) he'd rubbed elbows with several authors of great repute. He paid attention to the business, to the network, to the practical concerns of his future career of choice. After graduating, he attended the prestigious Clarion writers' workshop.
In college Tim had paid the bills as an assistant in the Dean's office. After getting his degree, he worked for a while at an antique store. Then he worked in the marketing department at the corporate headquarters of a large hardware-store chain; although he was very good at this, I don't think he liked advertising very much.
By this time, I'd moved to Santa Cruz, CA, to go to graduate school. Tim felt a bit of wanderlust, and didn't much care where he went. He just needed to fuel the writer with new experiences. So what the hell, if I'm already out here, why not? In the summer of 2000, Tim moved to Santa Cruz. He took a job doing office work and technical writing with a small local firm.
His record is improving. He no longer submits to the webzines that don't pay for stories — lately he's had increasing success with the pro markets. He's serious about this, folks.
But, despite his commitment to his work, you can still run into us drinking coffee at Pergolesi, or catching a matinee, or thumbing through the used books at Logos, or flirting with the wait staff at, well, just about any Santa Cruz establishment. We have to flirt a lot, to dispel the notion that we're a couple.
[In 2001 I left Santa Cruz to live in Oakland, where I began working at Locus and moved in with Heather Shaw. We married in 2005, and our son was born in 2007. We relocated a few miles north to Berkeley in spring 2010 so we could give our toddler a yard to play in. And there we stand.]