Friday, February 1st, 2013
Behold the cover for Rags and Bones, the anthology I've co-edited with Melissa Marr for Little, Brown Books for Young Readers. It is an astonishingly good book with a stellar contributor line-up.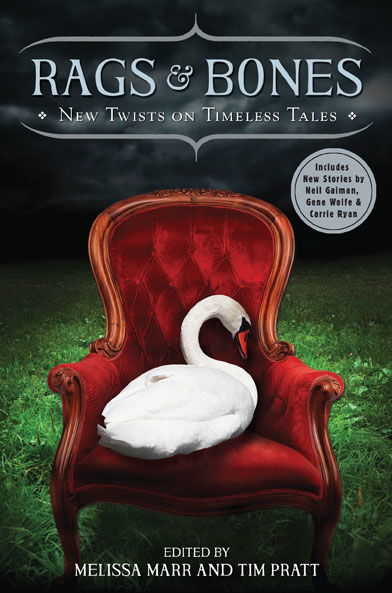 Here's the Table of Contents. It'll be out in October 2013 (as far as I know). I will exhort you to buy it when it appears.
That the Machine May Progress Eternally by Carrie Ryan
Losing Her Divinity by Garth Nix
The Sleeper and the Spindle by Neil Gaiman
The Cold Corner by Tim Pratt
Millcara by Holly Black
When First We Were Gods by Rick Yancey
Sirocco by Margaret Stohl
Awakened by Melissa Marr
New Chicago by Kelley Armstrong
The Soul Collector by Kami Garcia
Without Faith, Without Law, Without Joy by Saladin Ahmed
Uncaged by Gene Wolfe
and
Illustrations by Charles Vess