August 20th, 2015
Strange Horizons launched at Worldcon 15 years ago. It would be impossible to overstate the impact the magazine had on my life. They published some of my earliest short stories, and certainly the first story of mine to get any attention, "Little Gods," my first major award nominee. I published some of my best work there — "Artifice and Intelligence," "Living with the Harpy," "Another End of the Empire" — as well as heaps of my poetry (including my Rhysling Award winner, "Soul Searching") and even some of my reviews, and they were for a long time the magazine I thought of as my "home." (Here's everything of mine they published over the years.)
I haven't published there in a while, largely because I almost never send out stories on spec anymore, but I wouldn't have my career without it.
Also, and rather more importantly, I wouldn't have the life I have without it, because Strange Horizons led directly to my meeting my wife Heather Shaw. She worked for SH, and the magazine held an event for Nalo Hopkinson at Heather's house in Oakland way back in 2001. Founder Mary Anne Mohanraj was kind enough to invite me (I was living down in Santa Cruz) and as soon as I saw Heather, I was hopelessly smitten. (She didn't much notice me then. She had an event to help run, after all. But I wooed her.) A few months later we were living together, a couple of years later we were engaged, and four years later we were married.
Like I said. Impossible to overstate the importance of the magazine to me. It's also one of the most long-running and dependably fantastic publications on the internet, and has helped launch the careers of more amazing writers than I can count. It's been around so long I think people take it for granted. Well, don't. Take a minute to think about how fantastic they are, and if you haven't read much there, be delighted: you have 15 years of archives to explore.
July 29th, 2015
So. How're things?
I have been writing a lot, and I've gotten so much done, that now the only thing on my to-do list is "Write the rest of Queen of Nothing." It is indicative of how busy I've been that "write a novel" seems like a very restful schedule. (This month I've written a story, revised a novel, revised sample chapters for a proposal, contributed to a round-robin collaboration, and other miscellaneous bits.)
Our vacation in San Diego (where I went for Westercon and my wife and kid went for Legoland and swimming pools, mainly) was very pleasant. Returning to real life was bumpy initially, but I'm back in the flow now. I love summer. We've been going swimming a lot, grilling in the yard, reading in the hammock, drinking beer on patios, walking in the sunshine, watching movies, spending time with friends. Soaking up all the light. I'm enjoying the present and excited about the future. (Saying that will doubtless summon a devastating meteor strike directly on my house, but so it goes.)
In weird project news, I'm up to 101 supporters for my story-a-month Patreon! It's not life-changing money, but it's definitely life-improving money. I've done three stories so far, available to anyone pledging at least $1 a month: "A Wedding Night's Dream," about a strange wedding in the woods; "North Over Empty Space," revisiting a couple of the supernatural mercenaries from my story "Cup and Table";  and "Not a Miracle But a Marvel," which I've been describing as my "polyamorous fairy abduction story." Plus some excerpts from works-in-progress and forthcoming books and a piece of Batman fanfic, extras made available for those who pay $5 a month or more.  Basically, if you like my fiction, I encourage you to check it out and consider kicking in. I think I'm giving great value, and it's a really exciting model for direct support of artists.
July 2nd, 2015
I'm at Westercon in San Diego! (Actually we arrived Wednesday, but Thursday was largely devoted to Legoland and the associated water park.)
I'm doing some panels and things! The schedule is here. Short form: Friday I'm on a panel about shared-world writing at 11, and a panel about writing irredeemably villainous protagonists at 2. Saturday I'm on a panel about fairies (or faery) at noon, and doing a reading at 2 (come to that, I'm good at readings), and doing an autograph session at 3. Otherwise I'll just be wandering around and talking to people and avoiding talking to people. Hope to see those of you I hope to see!
May 30th, 2015
This week my whiskeyhorror companion Katrina had a cold so she drank tea with honey and whiskey and I drank a gin and tonic, so I mean, stuff was all weirded up.
Our respective partners went to see a Shakespeare play that night, being more inclined to historical costumes than blood-smeared tank tops. Before they left I said, "Well we are watching the modern equivalent of a Shakespeare play: the fourth installment in a Spanish science fantasy found footage zombie franchise." (I stand by it. Billy the Bard wrote what the people like.) Anyway, there are a million spoilers ahead, etc.
I haven't reviewed the earlier installments, as I figured I'd cover them as a whole, but we watched them over the course of months, so this may be a little sketchy in parts. The basic setup will be familiar to anyone who's seen Quarantine (an English-language remake of the first REC film): a reporter named Angela and her cameraman are doing a fluff piece on a local fire crew, they go along on an emergency call, and get trapped in a building full of bloodthirsty zombified Spaniards. While the American version places the blame on a doomsday cult and a mutated virus, the Spanish franchise is infinitely weirder, and the ultimate source of the disease is revealed to be a girl who was possessed and studied by Vatican scientists who hoped to come up with a vaccine against the devil, which, I mean, yeah: points for audacity. Our brave reporter is the Final Girl, ultimately trapped up in the penthouse apartment of the dead Vatican scientist, where the creepily emaciated and hammer-wielding possessed Patient Zero is zombie-ing around. Angela tries to hide. She fails.
REC 2 overlaps the first film slightly as a scientist-exorcist is sent into the building to get a blood sample from Patient Zero so they can continue work on a vaccine. There are some nice elaborations to the mythos, though they don't make much sense continuity-wise, as they didn't seem to apply to the first movie, but whatevs: they're cool. The main new thing is that, in the dark, the world literally changes: monsters that are invisible/immaterial in the light appear when looked at through a night-vision camera; there are bottomless pools of water and doors that only exist in the darkness. The demon-possession stuff is made more explicit here, too. The big final reveal is that the reporter, Angela, is the new host of the demon (which slithered into her mouth in the form of a big-ass wormlike parasite), and is trying to muderscam her way out of the building to further spread the infection. We end with her escape.
REC 3: Genesis is then a big case of dramaticus interruptus (pretty sure that's genuine Latin) as we shift casts and locales entirely, to a wedding in Barcelona where the demon virus spreads, on the same day as the events of the first two films. (The continuity is actually solid: we knew earlier that a dog in the original apartment building was taken to the vet because it was mysteriously sick; a guest at the wedding was bitten by a dog, and is the first to turn.) Zombies attacking a big wedding is fun stuff, with lots of great set pieces, and there are some nice interpersonal issues to be worked out as people are devoured and the authorities seal off the area. The demonic stuff is even more pronounced, as people take refuge in a church the possessed can't enter because of holiness, and it's also revealed that the zombies are basically a hive mind controlled directly by the demon/worm/whatever. We get a woman who tears the train off her wedding dress so she can run better and show off her legs as she attacks monsters with a chain saw, and a guy who wears antique bits of armor he found in the building, and a predictable but nice "I'd rather die with you as a zombie, my love, than live alone without you" ending. Honestly, it might be my favorite of the films, even though they only intermittently use found footage (wedding videographer, CCTV) and mostly just go with a standard cinematic style of film. I thought that was a clever choice to differentiate the "parallel sequel" from the other installments, but…
REC 4: Apocalypse has almost no found footage as all, which is fine. It's fine. I mean, if the aforementioned Shakespeare got halfway through his sonnet cycle and then was like "Damn, sonnets have too many restrictions, I'm gonna write some free verse," that would also be fine, totally fine, horribly disappointing and a failure of craft, but fine. We do get back with Angela and a couple of survivors from the rescue operation that saved her, and they are on a quarantine ship at sea, along with one survivor from the wedding, and a bunch of scientists, and many guys with guns, and a really nerdy radio technician/hacker who has an adorable crush on Angela, and a bunch of infected monkeys. The priest/scientists are still working on a vaccine though it's a bit less "DEMONS THEY'RE DEMONS" this time, and the "strange things happen in the dark" stuff is entirely eschewed, and in general they try to make it more scientific, which is a shame, because I prefer the weird. Somebody takes advantage of a power failure to release some of the infected monkeys from captivity and let them run loose on the ship – zombie demon plague monkeys are scary – and naturally we are supposed to assume that parasite-possessed Angela is responsible. As people who've seen more than one horror movie, we knew, obviously, that Angela couldn't possibly be responsible. The parasite jumped ship (ha ha, nautical humor, I am the worst) to a new host at some point. Once again we got some nice contained nightmare stuff, and some good character moments, and a woman wielding an outboard motor instead of a chainsaw, but to similar effect. Everybody makes plans to save themselves and almost all the plans horribly fail. It's great. It's the last installment in the series, and the ending is not quite the downer I was expecting. Not mind-blowing, but it's a satisfying conclusion, and I'm glad to have watched the series.
May 13th, 2015
We drank perfect manhattans with bourbon and sazeracs with rye, and watched Farsi-language vampire movie A Girl Walks Home Alone at Night.
I enjoyed this one a lot. At first I thought it was going to be a gloomy, stately, minimalist affair – the long shots of ruined buildings, the fact that it's shot in black and white – but there is a ton of quirky humor in this film. (When you have a vampire woman skateboarding down the street of a desert town wearing a hijab – the filmmakers are having fun.) I loved the vampire's preferred method of stalking, mirroring the movements of her intended victims, matching her pace to theirs – it was creepy, and funny, and maybe also suggested an attempt to better mimic humans.
The villain in the first third of the film is ridiculously over-the-top, a complete caricature of a sleazeball drug dealer and loan shark and pimp – he has neck and face tattoos and smacks around a prostitute and has fish tanks and animal heads and blankets with pictures of tigers on them in his apartment – but I stopped rolling my eyes after a while and just rolled with it instead. He's supposed to be irredeemably awful; that's why it's fun to see him get eaten… and it makes some of the vampires later (and less morally defensible) attacks more disturbing by contrast.
The film *is* minimalist in a lot of ways. The James-Dean-esque male lead and the vampire fall in love without a lot of talk, and the most erotic scene they share involves him piercing her ears. We don't get much in the way of backstory for the vampire (or anyone, but especially her), and there are a lot of moments when affectless characters gaze affectlessly into the distance… but it works, especially when there's a very expressive cat sitting between them, calling attention to their blankness in an amusing way.
There's also a whole lot of effective acting, too, with gazes and body language over words. I'd argue that the climactic moment of the film comes late, when the hero paces back and forth on the side of the road, struggling with a moral choice, and then making a decision – his entire struggle takes place silently, with no discussion or verbal agonizing before or after; it's all in the way he moves.
The movie was filmed in Kern Country CA, not in the Middle East, but that area has a lot of empty places and dilapidated things and also palm trees anyway, so it works well as the setting for the nowhere-town of Bad City.
And it's the first ever Farsi vampire Western! I'll be watching director Ana Lily Amirpour with interest.
April 29th, 2015
The short version is: I've set up a Patreon at www.patreon.com/timpratt. For as little as $1 a month, you can read a previously unpublished story from me a dozen times a year. (Give more if you're feeling rich and generous or want goodies.) For those who don't know, Patreon is a crowdfunding site, but rather than raising a bunch of money for a big project all at once (a la Kickstarter), it's for people who want to give regular donations for open-ended or ongoing projects on a recurring basis. You become patrons, basically. I expect to make the first story available to supporters in the next couple of weeks.
The slightly longer version is: I've been thinking about doing this for years. I tweeted back in late 2013 that I was thinking of doing a story-a-month subscription service via Patreon, but my interest goes back much further. I've watched with interest things like Bruce Holland Rogers's ShortShortShort story subscription service and Caitlin R. Kiernan's Sirenia Digest "monthly erotic vignette subscription service," and her subsequent collections. I've been thinking for ages: "Wow, I should do something like that."
I love writing novels, but writing short stories is the closest thing I have to a calling. It's my favorite art form to read and my favorite to write. I'm also pretty good at it. I made my name as a story writer.
The problem is, as I've become more successful as a writer, my time has been given more and more to novels. I've gone from writing twenty stories a year to maybe two or three, and then mostly only when commissioned. It's a loss I've felt keenly, but, well, it just makes more financial sense to write novels.
Wanting things to make financial sense is important since I have a family to feed and all that, but it doesn't always make for the best artistic decisions.
So I've been contemplating story subscriptions as a way to justify writing more short stories, but I hesitated for various reasons. The main ones are, I already crowdfund a project at least once a year, and didn't want to be constantly going "Pay me pay me pay me" on twitter and facebook. The organizational aspect was also daunting. But with Patreon I can set a really low threshold to entry for backers — a buck a month gets you access to new stories — and a lot of the organizational stuff is handled through the site itself. It's also an ongoing thing, so I won't feel the need to beat the drum constantly to get interest. I'll send out this initial announcement, and will probably mention on social media when I post a new story, but it won't be an annoying bombardment.
Another reason I hesitated is, since I can reliably sell stories I write on spec,why don't I just do that? Write more stories, and send them out to magazines, instead of only writing stories when they're commissioned? The simple answer is… I can do that, but I haven't been. Without a deadline, writing stories on spec simply goes to the back of the queue of things to do, and so, I never do it. With a monthly deadline, and people waiting for stories from me, I'll actually prioritize doing this thing I love.
So, if you support my Patreon: Thank you for helping me psychologically trick myself into writing more stories.
Here are links to some free stories, if you want to see what you're getting into: http://www.timpratt.org/?page_id=10
April 28th, 2015
We drank Black Saddle 12-year-old bourbon, which is ridiculously good and the bottle is empty now and now I am sad.
We watched As Above, So Below, that "attractive archaeologist obsessed with the alchemist Nicolas Flamel goes into the Paris catacombs with some local urban explorers in search of the philosopher's stone" movie.
The good: the Paris catacombs are cool. Urban explorers as horror movie protagonists? I like that. Spatial horror is always welcome, and that's pretty much all this movie is: passages that don't lead where they should, weird loops and doubling-back, being frightened and lost in the dark. The bit with the burning car. The shot of their emergence from the manhole cover.
The bad: the whole last third of it, basically (apart from the burning car and the manhole cover). The nonsensical and also cheesy answer to "What is the philosopher's stone really?") The fact that the surviving characters did not emerge into an Evil Mirror Version of Paris full of demonic mimes and baguettes that eat you. (That would have redeemed everything else for me, honestly.)
Mostly it made me want to rewatch The Descent, so we're doing that next time.
February 25th, 2015
There have been two WhiskeyHorrors since my last report: one last Saturday, and one on Tuesday night. So much horror. So much whiskey. (Well, the usual amount of whiskey.)
Both times we mostly drank the 10-year-old Bulleit reserve, which is delicious. Also a bit of Monkey Shoulder blended Scotch, which I hear is hit-or-miss depending on which batch you happen to get, but our bottle is very good with soda and even tasty by itself over ice.
Saturday we watched Dead Snow 2: Red vs. Dead, which was an improvement in pretty much every way over the first one — funnier, more lively, equally gruesome with better effects. It picks up immediately after the end of the first film… except all the Norwegian people now inexplicably speak English. (Guess it was a condition of giving the director actual money.) Martin Starr was amusing as the leader of an American "Zombie Squad" (though I wish the two women on the squad had been better written and fleshed-out) and the business with the tank was great. Recommended if you like funny zombie stuff and dead Russians hitting dead Nazis with shovels and, uh, generally enjoy films that involve snow.
Tuesday was rather more serious: we saw The Woman in Black, with Daniel Radcliffe being pale and sad in the English countryside as blank-faced children committed suicide all around him and in the past also. As the father of an adorable blond moppet myself, the film certainly gave me some terrible twinges. Stately and deliberate without being dull, with a good mix of jump scares and tension-building-dread stretches. At one point when Radcliffe's character was Making A Plan to deal with the supernatural menace I complained that in many old ghost stories there's not a damn thing you can do; the ghosts are just there, and will remain there, and there's not a ritual you can conduct to put them to rest. I suppose I'll adhere to local norms and avoid spoilers but suffice to say, I was pleased with how Radcliffe's plan turned out. The ending is an utterly bleak downer — and yet because it's not as bad as it could have been, it actually manages to feel weirdly hopeful!
We've also been watching the From Dusk Till Dawn TV series, which is total gonzo fun, very cinematic, well directed, engagingly acted, gross, grotesque, funny, smart, pulpy, and narratively complex. We're four episodes in, and I can't wait to watch more. (Note: not for ophidiophobes.)
February 24th, 2015
As springtime grows near, a young man's fancy turns to thoughts of… Kickstarting another Marla Mason fantasy novel.
I just launched the campaign to fund Queen of Nothing, which will be the ninth full-length book in the series (tenth if you count short prequel novel Bone Shop). (At this point, I've crowdfunded more of these novels than I published traditionally, which is frankly mind-blowing to me. My readers are amazing.)
If you want to contribute, or learn more, you can check it out here:
https://www.kickstarter.com/projects/timpratt/queen-of-nothing-a-marla-mason-novel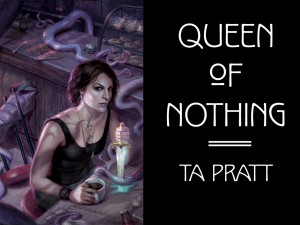 It's going to be a grand blend of mythic fiction and contemporary fantasy, with a lot of evil-god-punching, and all the usual snark and jokes and moral ambiguity and ass-kicking and calamitous mistakes that characterize the rest of the series.
Want to read about Marla? Here are links to some free stories set in her world.
Thanks, as always, for your support.
February 11th, 2015
WhiskeyHorror report:
We drank Larceny, a wheated bourbon from Heaven Hill distilleries, with ice and the odd splash of bitters. Pretty tasty stuff.
We watched The Den, a recent found-footage (sort of) horror movie, quite tense and disturbing, with a nice mix of mounting discomfort, dread, jump scares, and graphic horror. (Plotwise it's basically "Chatroulette, with murderstalking," or "Hostel Online," though it's less torture-porn-y than the Hostel movies; which isn't to say there's no gruesome violence, because there is a bit.) The lead character was a bit passive/ineffectual for much of the film, to the extent that I said, "Wow, I wish she'd do something," but as things became more imminently dangerous she did step up and make some impressive moves, and I ended up liking her character a lot. (I'm not saying things turn out well for her — it's a horror movie, not a thriller where order is restored at the end — but at least she made the bad guys feel a degree of her pain.)
As we finished watching American Horror Story we needed a new show to add to the rotation, and after poking around Netflix a bit found Darknet, which even fits a bit thematically with The Den. It's a Canadian anthology horror show (non-supernatural, for at least the first few eps anyway). Each episode has several intersecting storylines, with a non-linear approach to chronology, and an emphasis on twist endings which range from the silly to the delightfully creepy. (Of course, once the twist-ending thing was established, we started to see the twists coming, or at least to look for them.) It's an amusing show, organized around the common thread of a website devoted to the macabre and murderous and disgusting. (Sort of 4chan meets the Morbid Reality sub-Reddit.) Fear Itself is still the better Canadian anthology horror series, but Darknet is fun.